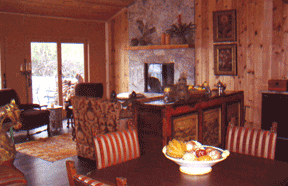 The first Pine Mountain Club project led to this second major rennovation. A get-away retreat for this client, the small cabin needed to be cozy and reflect the client's sophisticated but down-to-earth style.

Centering on special pieces of furniture and accessories, like the red Tibetian chest (left) that replaced the counter dividing the kitchen and the living room, or the old family chandelier that replaced a ceiling fixture in the hallway.
This project included a new roof, new central heating system, and making over a Jack and Jill bathroom with creamy, natural slate from floor to ceiling.

The cabin is a terrific place for the client to relax from her busy, urban life.